SECONDARY CAMPUS CURRICULUM OVERVIEW
Fremont Christian School has been actively implementing Common Core State Standards (CCSS) ideals since 2010. Changes in text resources and, most importantly, professional development over the years since have focused on making this paradigm shift in order to prepare FCS students for success in higher education and careers of the future. Fremont Christian High School graduation requirements exceed the University of California admission requirements.
Mathematics
FCS has adopted a math curriculum that focuses on depth rather than breadth, conceptual foundations, and most importantly, process and application of mathematical concepts. The CCSS for mathematical practice are reflected in the secondary math courses. Students are expected to explain their thinking, demonstrate their process, understand that there can be multiple paths to the same solution, and make real world applications. Mastery projects allow students the opportunity to demonstrate their understanding of math concepts and processes. Three Advanced Placement (AP) courses are offered in mathematics: Statistics, Calculus AB, and Calculus BC.
English
English courses continue to reflect the CCSS English Language Arts (ELA) standards through the reading and analysis of key literature of various genres. Students further develop their literacy skills with a continued emphasis on vocabulary development and understanding the role of grammar in conveying the desired meaning. Teachers cultivate clear communication and critical thinking by providing opportunities for students to practice writing for different purposes and audiences. Frequent writing builds stamina, confidence, and skill while encouraging student to engage in thoughtful and meaningful discourse. Honors projects, an honors science-fiction/fantasy literature course, and an Advanced Placement English Language/Composition course also provide opportunities for students to challenge themselves and hone college-level reading and writing skills.
Social Studies & Science
While California content standards and Next Generation Science Standards (NGSS) inform content, the CCSS ELA standards also play an integral part in the instruction of social studies and science. CCSS literacy standards are embedded in content instruction through Project GLAD (Guided Language Acquisition Design) instructional strategies. Science instruction takes place in well-equipped labs, with the curriculum culminating in the digital science expo, an event where students from all science classes design and implement a science project and a written report based on their interests. Advanced Placement courses include: U.S. History, U.S. Government, Biology, and Physics.
Bible Department
Bible courses are a required element of our academically rigorous secondary program and continue the concepts taught in elementary school, with a focus on worldview. Summit Ministries' worldviews curriculum explicitly informs instruction in Bible courses for grades 6, 8, 11 & 12. Seventh-grade students focus on the Old Testament, ninth-grade on the Gospels, and tenth-grade on apologetics. Whatever the course, FCS affirms the metanarrative of Scripture: 1. God created all things good. At creation, all things were in harmony. 2. At the Fall (Genesis 3), the whole created order fell into disharmony due to the disobedience of man. 3. In the person of Jesus Christ, God began the process of redemption and renewal. 4. In the end, God will restore all things through his Son Jesus Christ.
We believe the biblical metanarrative is manifested in four key relationships of creation. 1. Fellowship: The relationship between God and man. God created man for relationship with Himself; that relationship was broken because of sin; that relationship is restored through Jesus Christ. 2. Image-bearers: Man was created as whole and healthy being, as an image-bearer of God; sin brought disharmony and conflict into the life and heart of man. Redemption through Jesus Christ begins the healing process within man. 3. Servanthood: God created man for harmonious and loving relationships with other people; sin is the cause of disharmony and discord among people; part of restoring mission of Jesus Christ is to bring people back into harmonious relationship with one another. 4. Stewardship: God placed the whole created order under the rule and care of His image-bearers (Genesis 1); with the Fall, the relationship between man and the rest of the created order was marred; In Jesus Christ, God continues to call His image-bearers to work to preserve and protect the created order.
Additional Courses
Physical education, world languages (Spanish), and a wide variety of fine arts courses (choral music, instrumental music, visual art, and theater arts) round out the curriculum. Advanced Placement courses for electives include Art History, Studio Art 2-D Design, Studio Art Drawing, Spanish Language and Culture, and Computer Principles.
January Term
In addition to our core academic program, high school students engage in a two-week January Term (J-Term), seven days of elective courses culminating in an off-site three-day retreat. High school teachers, administrators, other staff, and sometimes parents create and implement high-interest mini-courses that reflect their extracurricular interests and passions. Courses in past J-Terms have included offerings such as photography, cooking, badminton, film, science fiction, and many more. We have found that in addition to offering diverse and engaging electives outside of the core curriculum, J-Term fosters closer relationships between students and between students and staff.
---
Secondary Faculty Members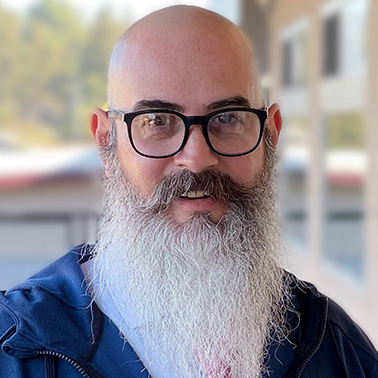 Our teacher coach, Jason Perenon has taught secondary U.S./AP U.S. history at Fremont Christian School since 2014. He has served as a volunteer staff member of student ministries at Redwood Christian Community Church since 2002.
Mr. Perenon has a bachelor's in history, with specialties in U.S. history and the Cold War, from California State University at East Bay. In 2022, he completed a Master of Arts in teaching leadership at Saint Mary's College of California, which consisted of a Practical Action research project that explored how teachers create a safe space within their classroom environments to encourage community and learning. The primary focus was how students who identified with learning complexities respond to the safe space and become part of the learning community in the classroom. The results of the year-long project were published in August 2022.
An identified Dyslexic, Mr. Perenon approaches the classroom environment as a learning community and sees school itself as a family unit.
Big-School Opportunities in a Small-School Environment