January 24, 2023
Almost as far back as its founding in 1968, Fremont Christian has welcomed international students into its classrooms. Although much has changed over the years, our school's commitment to hosting students from abroad continues to enhance the educational experience for every member of our student body.
FCS's international program allows our locally based students to learn firsthand about other cultures, which both enriches their curriculum and provides the opportunity to expand their worldview. In return, international students learn about our culture while improving their English skills and receiving a quality education.
For the 2022-2023 school year, FCS is hosting 13 international students, who hail from such diverse countries as China, Hong Kong, Italy, Myanmar, and Nepal. These students have the options of taking part in a homestay, as do Alex, Junlin, and Ryan with Head of School Dr. Tricia Meyer, or to reside with their own families nearby. FCS has hosted 196 international students over the last ten years.
"I like to teach local students to dive into a different culture and compare and contrast the differences between cultures," says Ms. Frances Lin, who teaches English language development at FCS. "In my special J-Term class, conversational Chinese, not only do we learn daily conversation that will lead to our field trip to a Chinese restaurant where we can practice ordering, we also discuss the sweetness and temperature of food that play an important role in human longevity."
Our international students feel a strong connection to FCS, staying with us an average 3.5 years, the majority of their high school career. Although much of this is due to the high level of education they are receiving, the bonds of friendship they form also play a decisive role.
"I thought that no one was going to talk to me because of my English language skills," says Jerry Yang, a 9th grader from China, about his arrival at FCS. "But everyone is really nice and also patient." He goes on to say how the FCS curriculum has exposed him to new subject matters, causing him to rethink his future plans. "FCS has built in me a lot of interest in arts and music. I used to think I would become a doctor or a soldier one day, to help others. But now I want to study the arts."
Cultural exchange programs also have the power to break down stereotypes — on both sides. "A really big misconception I had about American schools mostly came from movies that depicted high school as just a place with long hallways and bullies shoving people into lockers," says Suwon Htut, an 11th grader from Yangon, Myanmar. "My perspective has changed entirely. I now see American schools as being quite the opposite. FCS especially has a warm, welcoming staff and student population. I was really surprised at how friendly each and every single person I've ever talked to has been since I arrived."
Ms. Lin goes out of her way to make international students feel at home. "During Lunar New Year, I give away treats and money red couplets with blessings from the Bible," she says. "Every student likes the gifts, and our international students, who are thousands of miles away from their families, feel at home and loved during those special occasions. I teach all students the true meaning of Christmas, Valentine's Day, and Easter, so they all learn to feel the joy, love, and hope these occasions bring to them."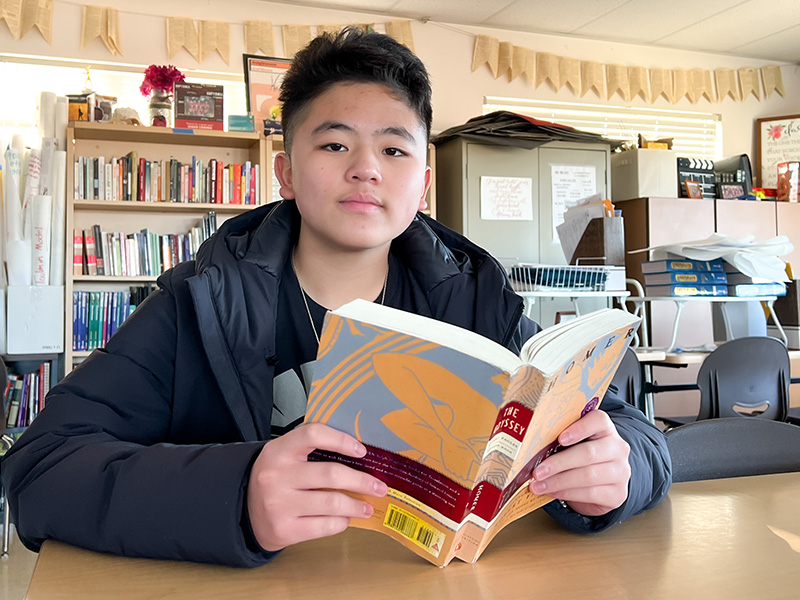 "We have a tiny home (1000 square feet!), but we have hosted international students since our son was in seventh grade," says Dr. Meyer. Even with her son now away at college, she and her husband continue to host international students. "It is such a privilege to provide a second family to these young people. Our lives are enriched with an exchange of ideas and experiences born out of two very different cultural systems. We have even traveled to China, which gave us a special opportunity to experience our students' culture."
Dr. Meyer says she treasures her family's close friendship with the Xu family, whose son they hosted for four years. The Xus' son sang in choir and played soccer with Dr. Meyer's son, Jake. The Meyers even traveled to China, where they spent time with the Xus visiting historic sites and being welcomed into their home. "We connected over our love for our children and our love for each other's children," Dr. Meyer says. "Even several years after graduation, we are all in touch regularly. This is a lifetime connection."
If you are interested in hosting an international student, apply now to be a homestay family.

Big-School Opportunities in a Small-School Environment