Posts Tagged "STEAM Showcase"
April 01, 2022
On Friday, March 18, elementary parents were invited to our annual S.T.E.A.M. Showcase, which was facilitated virtually this year, with teachers providing classroom tours and their S.T.E.A.M. (science, technology, engineering, art, and mathematics) projects via the web. Each grade level learned about the engineering design process, which includes the following steps: ask, imagine, plan, create, test, and improve. Using the curriculum from Engineering is Elementary, a curriculum developed by the Museum of Science in Boston, students solved real-world problems connected to stories of students around the world.
Transitional Kindergarten
Our transitional kindergartners designed a house for various environments, utilizing the names and characteristics of shapes they had learned together in class. They first planned their house using a variety of materials such as blocks, rubber bands, Unifix Cubes, and Legos, then created structures for the environment of their choice, such as the beach or mountains. The structures were tested for strength and whether they provided shelter from the environment of that region.
Kindergarten
The concept of habits was the focus for our kindergartners, whose engineering project included creating animals with UV-light-sensitive beads, then creating habitats for their critters. The test portion of the project saw the students bringing their habitats outside mid-day to see if the UV beads changed colors. If not, their animal was in a safe environment!
Grade 1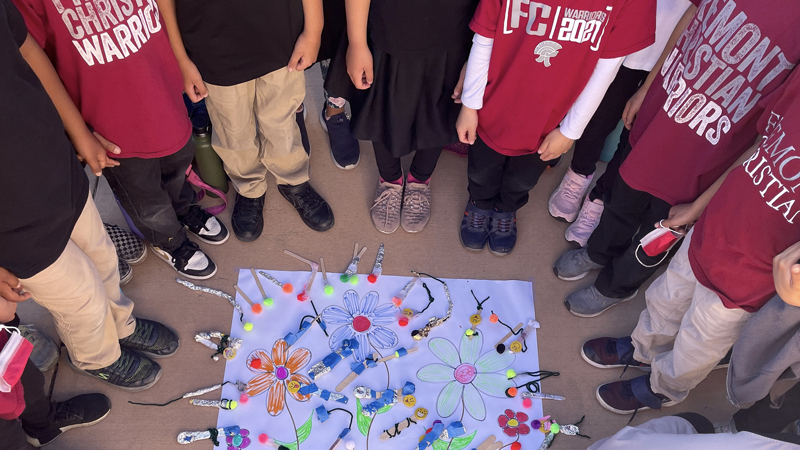 First graders explored insects and plants and applied agricultural engineering to solve a pollination problem. The unit begins with the storybook Mariana Becomes a Butterfly, in which a girl living in the Dominican Republic explores the field of agricultural engineering to determine why her ohelo plant won't make berries. Over the course of the unit, students learned about agricultural pest management, the life cycles of plants, and the interdependence of insect pollinators and plants. Like Mariana, students then followed the steps of the engineering design process to imagine, plan, create, and improve their own hand pollinators.
Grade 2
Students in second grade learned how engineers use their knowledge of energy transfer to design solutions for using energy without harming the environment. The unit begins with the storybook Lerato Cooks Up a Plan, in which a girl in Botswana uses her knowledge of green engineering to build a solar oven to cook food for her family. Students explore the life cycles and environmental impact of products, then collect and analyze data to compare how different materials perform as thermal insulators and conductors.
Grade 3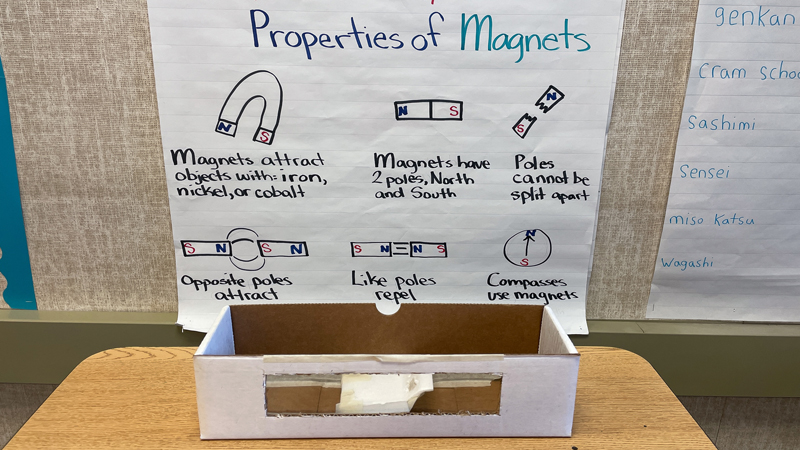 In third grade, students explored magnetism and its applications in engineering. The unit begins with the storybook Hikaru's Toy Troubles, in which a boy in Japan applies his knowledge of transportation engineering to design a special attraction for his family's struggling toy store. Over the course of the unit, students analyze the design of transportation systems, investigate the properties of magnets, and build model toys that use magnets.
Grade 4
Fourth graders explored electricity and its use in everyday technologies. The unit begins with the storybook A Reminder for Emily, in which a girl living on a ranch in Australia learns about electrical engineering to build a system that alerts her when she needs to fill the sheep's water trough. Over the course of the unit, students explore energy and electricity, investigate closed and open circuits, and create diagrams of circuits.
Grade 5
Students in fifth grade explored organisms and recognized how engineering can help provide for the needs of a small animal. The unit begins with the storybook Juan Daniel's Fútbol Frog, in which a boy in El Salvador uses bioengineering to design a safe environment for his fútbol (soccer) team's mascot, a small frog. Over the course of the unit, students explored the concepts of biomimicry, conservation, and biotechnology, and tested how quickly or slowly water passes through different materials.
Big-School Opportunities in a Small-School Environment